Research and projects
Websites and portals
Websites and portals
Very rare haemato-oncological malignancies

Coordinator: Zbožínková Zuzana
Project start: 2014
Contracting authority: Department of Internal Medicine, Haematology and Oncology at the University Hospital Brno
Information portal on very rare blood disorders and cancers involving a registry of patients diagnosed with very rare haemato-oncological malignancies – histiocytoses, mastocytoses, Castleman disease, cutaneous manifestations of monoclonal gammopathies, vasculopathies.
---
Very rare haemato-oncological malignancies (VRHMs) have a prevalence of 2 affected individuals per 10,000 EU inhabitants, and therefore are classified as rare diseases. The current lack of valid scientific knowledge on this group of rare malignancies implies that physicians can only use sporadic descriptions of individual cases and of small groups of patients when establishing the diagnosis and planning the treatment.
An internal grant of the University Hospital Brno (Czech Republic) led to the development of a VRHMs registry and a related website focused on a regional follow-up of patients with these rare malignancies. The following diagnoses are implemented in the structure of the VRHMs registry: histiocytoses, mastocytoses, Castleman disease, cutaneous manifestations of monoclonal gammopathies, and vasculopathies.
The project aims to develop a nationwide registry which will involve selected health care facilities dealing with haematology and oncology. The targeted patients' follow-up and physicians' records made during regular check-ups will ultimately lead to the development of a large database, which will not only provide outputs to make rational pharmacoeconomical estimates, but also become an essential source of information for health professionals.
Analytical outputs will provide the background for publications and lectures, which will increase the awareness of these little known diagnoses.
Primary objective of the project:
to create a regional registry of patients with VRHMs which will later become the basis for a nationwide registry,
to create a web-based platform making it possible to enter, to back up and to evaluate data,
to assess regional incidence and prevalence rates of VRHMs in order to make real pharmacoeconomical estimates,
to centralise care of patients with selected VRHMs in order to provide an early and rational pharmacotherapy.
Secondary objectives of the project:
to cooperate with other clinical facilities in the Czech Republic and to establish international cooperation,
to educate health professionals,
to establish a logistics of peripheral blood sample collection, subsequent freezing, and keeping the samples in a tissue bank for the purpose of later cytokine analyses.
Other important information:
Expert guarantor: Petr Szturz, MD, PhD
Funding: grant provided by the University Hospital Brno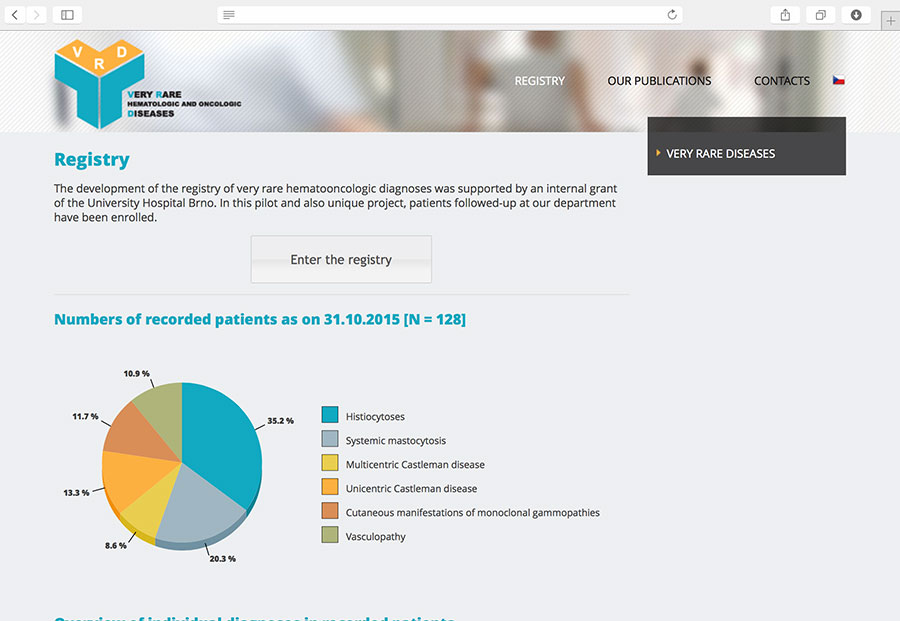 URL: http://www.vzacne-diagnozy.cz