Research and projects
Websites and portals
Websites and portals
Atlas of Haematological Cytology

Project start: 2017
Contracting authority: CzEch Leukemia Study Group – for Life (CELL)
An online atlas of haematological cytology with flowcytometry, cytogenetic, and molecular biology findings.
---
The online educational atlas of haematological morphology (with respect to the latest WHO 2016 classification) has been developed and maintained by the CzEch Leukemia Study Group - for Life (CELL), the leading Czech working party in the field of leukaemias and supportive care.
The website was made by IBA FM MU.
Expert guarantors: Prof. Jiří Mayer, MD, PhD; Libor Červinek, MD, PhD. (Department of Internal Medicine – Haematology and Oncology at the University Hospital Brno)
Citation: Mayer J., Červinek D. Atlas of Haematological Cytology [online]. Faculty of Medicine at Masaryk University 2016. Available from WWW: http://www.leukemia-cell.org/atlas.
Funding: educational grant provided by Novartis Oncology
Partners: haemato-oncology centres in the Czech Republic
Brief overview of results: you can find more detailed information on the website of the project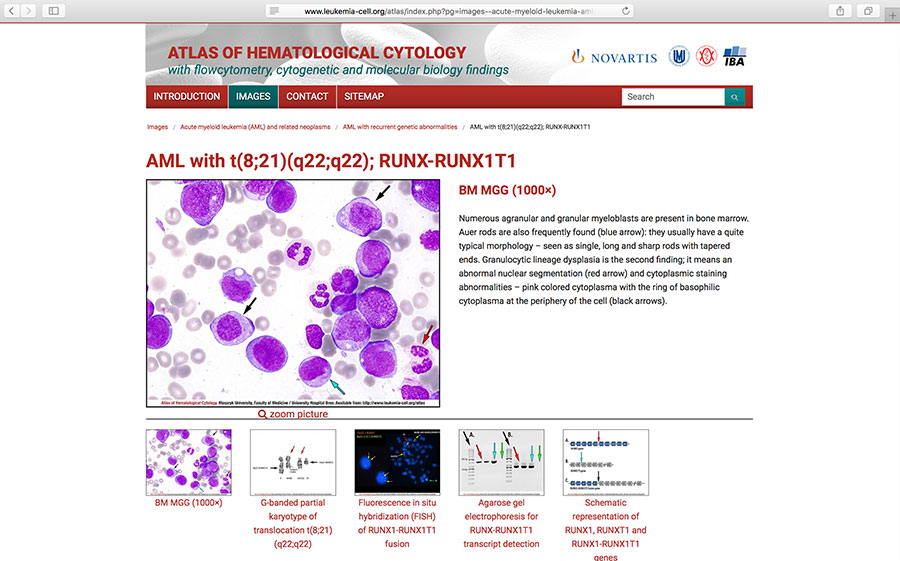 URL: http://www.leukemia-cell.org/atlas