Research and projects
Grant projects
Grant projects
Registry of patients with diabetic macular oedema (DMO) treated with anti-VEGF medicines

Coordinator: Brabec Petr
Duration: 2014–2014
Contracting authority: Czech Society of Ophthalmology
The diagnosis of diabetic macular oedema (DMO) is a complication of diabetic retinopathy (ocular complication of diabetes). The project involved the development and running of an electronic database for the collection of data on patients treated with anti-VEGF medicines.
---
The project was focused on the operation and innovations of the AMADEUS registry, which collects data on patients suffering from wet AMD (age-related macular degeneration) or diabetic macular oedema (DMO), and on the analysis of collected data.
Data on patients were collected using the AMADEUS registry, which has been running since 2008, and the structure of which was further extended and modified as part of this project.
Funding: The project was supported by the Ministry of Health of the Czech Republic within the programme "National Health Programme – Health Support Projects". The project is registered with the identifier 41/14/NAP.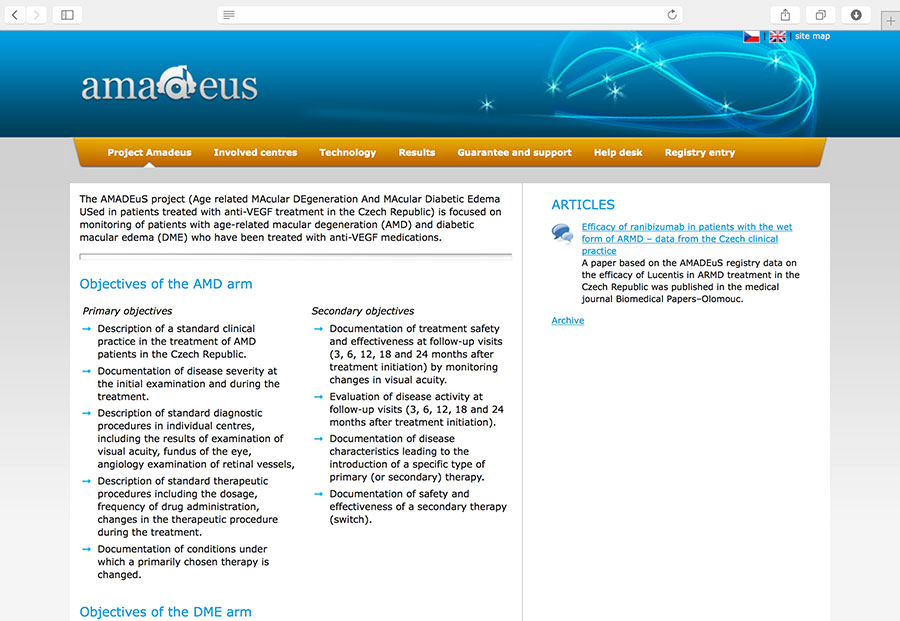 URL: http://amadeus.registry.cz