Research and projects
EU-funded projects
EU-funded projects
Educational and information platform for comprehensive cancer centres for the support and modernisation of education in medical and allied domains

Coordinator: Blaha Milan
Duration: 2012–2014
The project was focused on broadening professional skills of academic staff, physicians and oncologists, and on strengthening their mutual communication.
---
A local educational application was developed to meet the needs of each participating centre. These local applications worked with concrete data of respective healthcare facilities, making it possible to perform online analyses of real clinical and economic data.
The central web portal represented a common hub for communication and education, supplemented by a web-based interactive application developed in cooperation with all partners. Based on analytical reports, this application provided outputs based on information provided by individual healthcare facilities. This led to the establishment of an information source which made it possible for individual centres to obtain valuable reference regarding cancer care, and also importantly contributed to publication activities, which were an important result of this project.
Funding: Education for Competitiveness Operational Programme (ECOP): Educational and information platform for comprehensive cancer centres for the support and modernisation of education in medical and allied domains (CZ.1.07/2.4.00/31.0020)
Brief overview of results: you can find more detailed information – in Czech language only – on the website of the project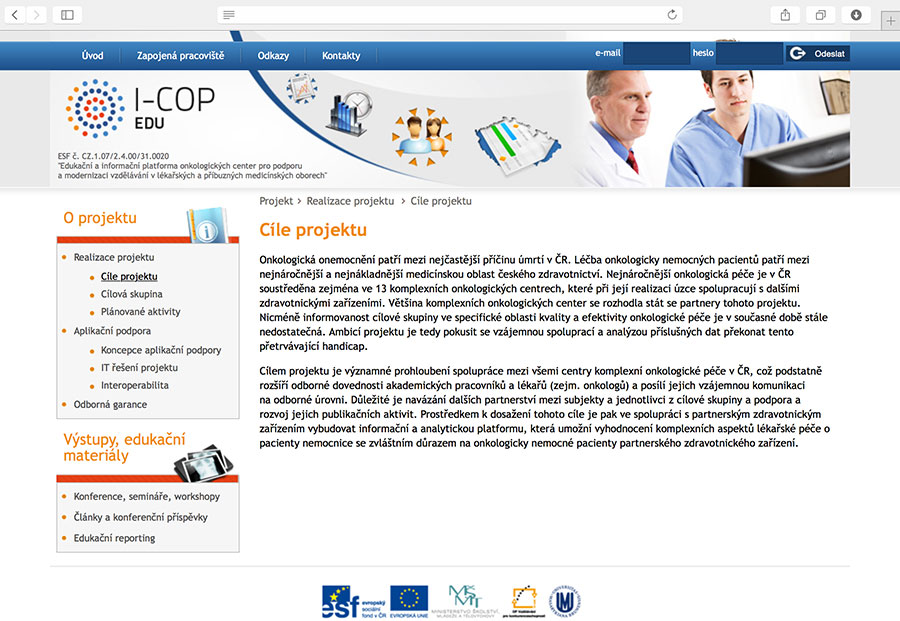 URL: http://www.icop.cz