Research and projects
List of all projects
List of all projects
INTENT

Duration: 2017–2020
Improvement and innovation of cancer care and its availability to all citizens belongs to EU priorities in the area of public health. The INTENT project is one of the new contributions in this field, aiming to find solutions for innovative patient-centred cancer care.
---
Cancer is the second leading cause of death in the EU. However, how we experience cancer is changing due to improving survival rates. Our notion of 'what cancer is' is shifting to reflect the need for a more patient-centred approach to care.
The INTENT project targets various types of actors involved in cancer care: cancer care providers, patients, and policy makers. The aim is to create a better understanding of how to interpret the patient-centred approach and identify ways for improving cancer care in central Europe.
Institutions from 4 countries participate in the project: Czechia, Italy, Hungary, and Slovenia. A new model of cancer care will be developed and tested with the use of experience from five pilot sites, the Masaryk Memorial Cancer Institute in Brno being the representative of Czechia. This will result in:
a better understanding of what patient-centred care entails
new tools and methods to implement a patient-centred approach
relevant recommendations for policymakers
a network of local stakeholders working together to identify areas for improvement and generate innovative solutions
The INTENT project is funded from the INTERREG Central Europe programme, which encourages cooperation to tackle mutual challenges across Central Europe.
You can also read the information leaflet (PDF file, 2,7 MB) or visit http://interreg-central.eu/intent to find out more about the project.
Intranet of the INTENT project (only available in English and accessible for project partners) has been developed and run by the Institute of Health Information and Statistics of the Czech Republic (IHIS).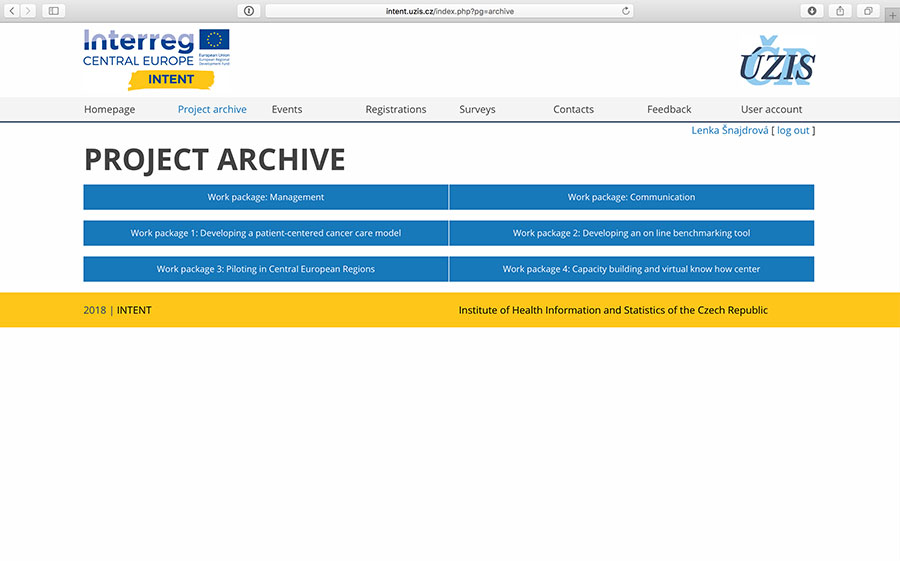 URL: https://intent.uzis.cz